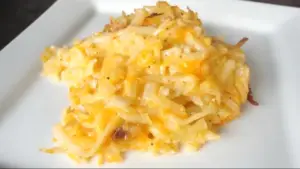 Imagine sitting in a cozy Cracker Barrel restaurant, sipping your coffee and indulging in their famous Hash Browns Casserole. It's a quintessential Southern comfort food experience, and now, you can bring that comforting deliciousness right to your own kitchen. Cracker Barrel's Hash Browns Casserole is a hearty, creamy, and cheesy dish that makes an excellent addition to breakfast, brunch, or dinner. This recipe allows you to recreate the beloved Cracker Barrel taste at home, ensuring your family and guests experience the warmth and flavors of this classic comfort food.
Ingredients
For the Hash Browns:
1 package (30 ounces) frozen shredded hash browns, thawed
1/2 cup unsalted butter, melted
1 can (10.75 ounces) condensed cream of chicken soup
1 small onion, finely chopped
2 cups shredded cheddar cheese
1/2 teaspoon salt
1/4 teaspoon black pepper
1/4 teaspoon garlic powder
For the Topping:
2 cups crushed cornflakes cereal
1/4 cup unsalted butter, melted
Instructions
Preparing the Casserole:
Begin by preheating your oven to 350°F (175°C) and greasing a 9×13-inch baking dish.
In a large mixing bowl, combine the thawed hash browns, melted unsalted butter, condensed cream of chicken soup, finely chopped onion, shredded cheddar cheese, salt, black pepper, and garlic powder. Stir everything together until all the ingredients are thoroughly combined.
Spread this delectable hash brown mixture evenly in the prepared baking dish, ensuring that it covers the entire bottom.
Creating the Topping:
In another mixing bowl, take the crushed cornflakes cereal and mix it with the melted unsalted butter. Stir until every flake is coated with the rich buttery goodness.
Now, sprinkle this crispy cornflake topping generously over the hash brown mixture in the baking dish. This topping adds a delightful crunch to the creamy casserole.
Baking the Casserole:
Carefully place the baking dish into your preheated oven. Allow it to bake for about 45-55 minutes or until the casserole turns hot and bubbly. The crowning glory is a golden-brown top that beckons you with its irresistible aroma.
Serving:
Once the Cracker Barrel's Hash Browns Casserole has finished baking, remove it from the oven and let it cool for a few minutes. This brief waiting period helps the flavors meld together beautifully.
Now, it's time to serve. Use a serving spoon to scoop out generous portions of this creamy, cheesy delight onto plates.
Variations and Tips
Add Meat: To make the casserole heartier, consider incorporating cooked and crumbled bacon, sausage, or ham into the hash brown mixture before baking. It adds a savory twist that's hard to resist.
Vegetarian Version: For a meatless option, omit the meat and introduce sautéed mushrooms, bell peppers, or spinach. It not only boosts the flavor but also adds some nutritional value.
Cheese Variations: Experiment with different cheese types to tailor the flavor. Monterey Jack, Swiss, or a cheese blend can provide a unique touch.
Make-Ahead Convenience: If you're planning for breakfast or brunch gatherings, prepare the casserole the night before, cover it, and refrigerate. In the morning, simply add the cornflake topping and bake it fresh.
A Dash of Spice: For those who enjoy a bit of heat, consider adding a pinch of cayenne pepper or some hot sauce to the hash brown mixture. It provides a delightful spicy kick.
Storage: Any leftovers can be stored in the refrigerator for up to 3-4 days. Individual portions can be conveniently reheated in the microwave.
Cracker Barrel's Hash Browns Casserole embodies the essence of Southern comfort food, offering creamy, cheesy goodness topped with crispy cornflakes. Whether you prefer breakfast-for-dinner or want to treat your loved ones to a special brunch, this recipe is the key to bringing that cherished Cracker Barrel taste right to your home. So, gather your ingredients, preheat your oven, and relish each mouthwatering bite of this delectable and satisfying casserole.