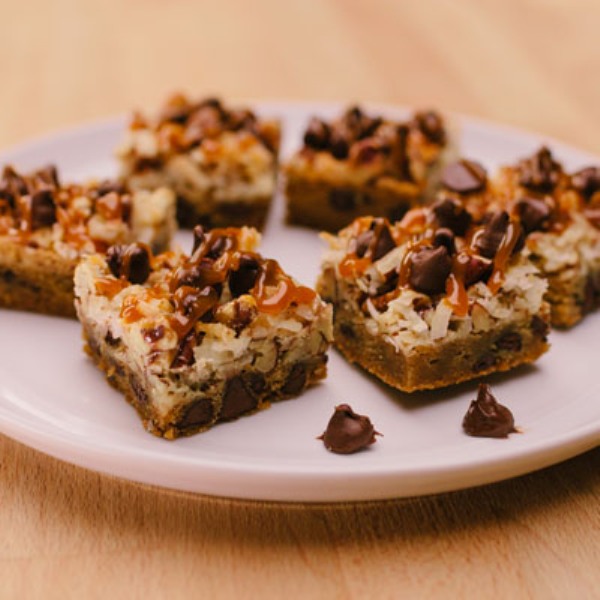 Ingredients
For the bars:
¼ cup/30g raisins (briefly soaked in warm water to soften)
½ cup/60g raw pecans
½ cup/60g raw walnuts
½ cup/ 40g unsweetened shredded coconut
½ teaspoon ground cinnamon
¼ cup/48g coconut sugar
Pinch of sea salt
For the topping:
½ cup/120ml Coconut nectar
½ cup/120ml Coconut butter (at room temperature)
1 tsp vanilla extract
¼ cup/30g raw pecans , coarsely chopped
Instructions
Line a 9-by-5-inch loaf pan with parchment paper.
Start by soaking the raisins in warm water for about 5-10 minutes, then drain and pat them dry before proceeding.
Place the pecans, walnuts, coconut, cinnamon, coconut sugar and salt in the bowl of a food processor and pulse until coarsely chopped. Add the soaked raisins and process until the mixture starts to clump together (like shortbread dough).
Transfer the mixture to the prepared pan. Flatten the mixture firmly and evenly in the pan using your hands or the back of a spoon.
In a small bowl, mix together the coconut nectar, coconut butter (if your coconut butter is very solid at room temperature rewarm it gently in a bowl set over a larger bowl of warm water before mixing with the coconut nectar), vanilla extract and a pinch of salt until thoroughly combined and caramel-like. Stir in the chopped pecans.
Carefully spread the caramel evenly on top of the crust using with the back of a spoon.
Cover loosely and place in fridge to firm for at least an hour.
Lift the bars from the pan, transfer to a cutting board and cut into bars. Serve at room temperature and store leftovers in the fridge.
Source : allrecipes.com