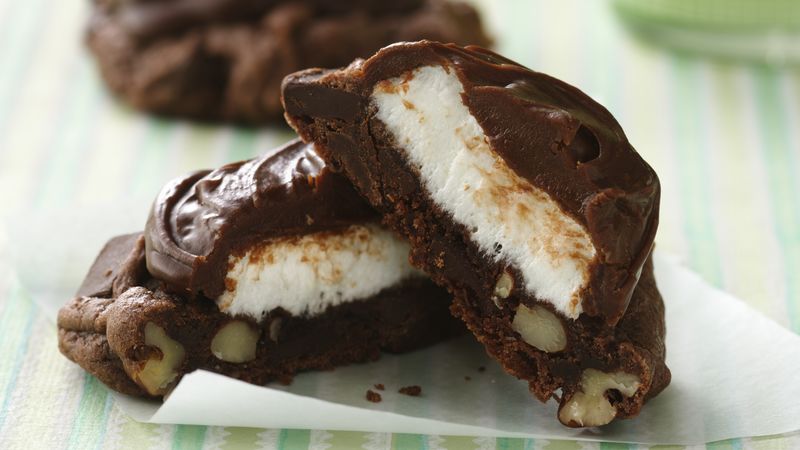 Ingredients
½ cup butter, softened
1 cup sugar
1 egg
½ cup 2% milk
1 teaspoon vanilla extract
1-3/4 cups all-purpose flour
½ cup Baking Cocoa
½ teaspoon baking soda
½ teaspoon salt
½ cup chopped pecans
18 to 22 large marshmallows, halved
12 oz semi sweet chocolate chips
Instructions
Preheat oven to 375 degrees. In a large bowl, beat together butter and sugar until fluffy. Add in egg, milk and vanilla.
In another bowl, whisk together flour, baking cocoa, baking soda, and salt. Add to the wet mixture and combine until incorporated. Stir in pecans.
Drop dough by rounded tablespoons two inches apart on an ungreased cookie sheet. Bake 6 minutes. Remove from oven and press a marshmallow into the center. Bake 2-3 minutes longer until marshmallows are soft and the edges of cookies are set. Remove and set on wire racks to cool completely.
To make the chocolate drizzle: Melt the semi sweet chocolate chips in a microwave safe bowl stirring 30 seconds at a time until smooth. Scoop the melted chocolate into a baggie and snip the corner. Drizzle over the top of the cookies.
Source : allrecipes.com