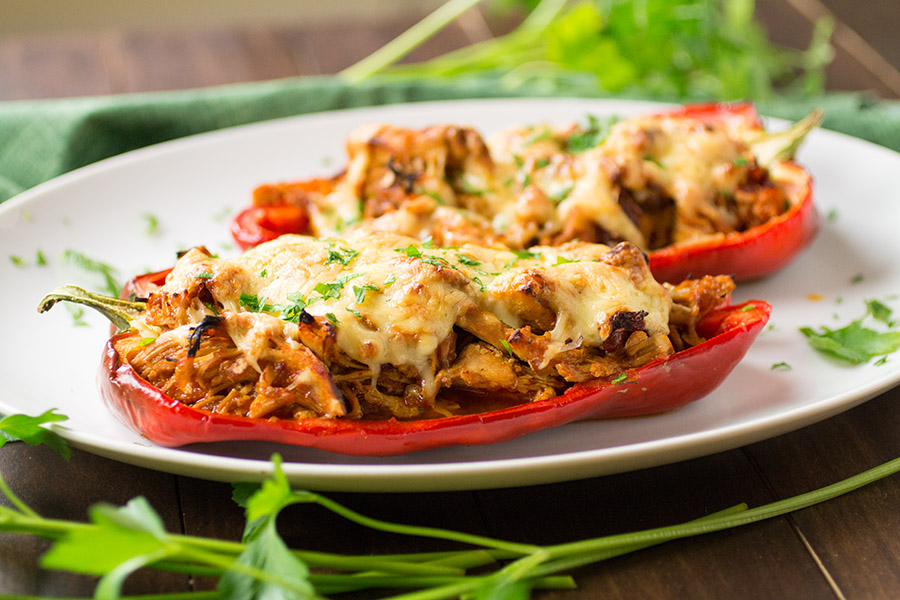 Ingredients
2 tablespoons olive oil, divided
1 pound chicken breasts or thighs, cut into 1 inch pieces
1 medium onion, diced
2 cloves garlic, minced
1 (14.5 ounce) can fire roasted diced tomatoes, undrained
2 cups cooked rice (you can use either brown or white rice)
1 cup frozen corn (no need to thaw)
1 (14.5 ounce can) black beans, drained and rinsed
1 teaspoon cumin
½ teaspoon chili powder
1 tablespoon lime juice
2 whole chipotle in adobo peppers, diced
5 large bell peppers, cut in half (I used a mix of green and red pepper)
cilantro for serving, if desired
Instructions
Preheat oven to 350 degrees. Grease two 9 x 13 pans with cooking spray.
Heat 1 tablespoon of olive oil in a large saucepan.
Add in chicken and sauté for 5-6 minute or until fully cooked. Remove the chicken from the pan and set aside.
To the same pan add the remaining tablespoon of oil along with the onions. Sauté for 3-4 minutes or until the onions are tender.
Add in the garlic and cook for 1 minute.
Stir in the tomatoes, cooked rice, corn, black beans, cumin, chili powder, lime juice and chipotle in adobo. Add back in the cooked chicken.
Mix until combined and heated through.
Arrange pepper halves on the prepared baking pans. Stuff about ½ cup of the chicken and rice mixture into each pepper half.
Bake for 30-40 minutes or until the peppers are tender.
Serve immediately with cilantro for garnish and diced peppers for color (I used the tops of the peppers).
Source : allrecipes.Com