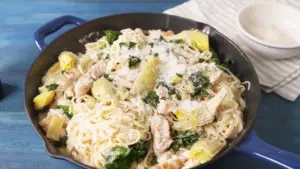 Elevate your dinner game with this Creamy Chicken Pasta featuring artichoke hearts. Combining tender, juicy chicken with the delightful tang of artichoke hearts, all wrapped in a luscious, creamy sauce, this dish is a culinary journey to the heart of the Mediterranean. It's a perfect blend of comfort and sophistication, sure to satisfy your taste buds. Let's embark on creating this delicious Mediterranean delight.
Ingredients
For the Creamy Chicken Pasta:
2 boneless, skinless chicken breasts, thinly sliced
8 oz (about 2 cups) penne pasta or your favorite pasta variety
1 can (14 oz) artichoke hearts, drained and quartered
1 cup cherry tomatoes, halved
1 cup heavy cream
1/2 cup chicken broth
4 cloves garlic, minced
1/2 cup grated Parmesan cheese
2 tablespoons olive oil
2 tablespoons butter
1 teaspoon dried basil
1/2 teaspoon dried oregano
Salt and freshly ground black pepper to taste
Fresh basil leaves, for garnish (optional)
Instructions
For the Creamy Chicken Pasta:
Cook the Pasta:

Begin by cooking the pasta according to the package instructions until it's al dente. Drain and set aside.

Prepare the Chicken:

Season the thinly sliced chicken breasts with salt, freshly ground black pepper, dried basil, and dried oregano.

Sear the Chicken:

In a large skillet, heat 2 tablespoons of olive oil over medium-high heat. Add the seasoned chicken slices and cook for about 2-3 minutes per side until they are golden brown and cooked through. Remove the chicken from the skillet and set it aside.

Create the Sauce:

In the same skillet, melt 2 tablespoons of butter over medium heat. Add the minced garlic and sauté for about 30 seconds, or until fragrant.
Pour in the heavy cream and chicken broth, stirring to combine. Allow the mixture to simmer for 3-4 minutes, letting it thicken slightly.

Introduce the Artichoke Hearts and Tomatoes:

Gently stir in the drained and quartered artichoke hearts and halved cherry tomatoes. Continue to simmer for another 2-3 minutes, allowing the flavors to meld.

Add the Parmesan Cheese:

Sprinkle in the grated Parmesan cheese and stir until it's fully incorporated into the sauce, creating a rich, creamy consistency.

Combine Pasta and Chicken:

Return the cooked pasta and seared chicken to the skillet. Toss them gently in the creamy sauce, ensuring they are well coated.

Adjust Seasoning:

Taste the dish and adjust the seasoning with salt and freshly ground black pepper to suit your preferences.

Garnish and Serve:

If desired, garnish your Creamy Chicken Pasta with fresh basil leaves for a burst of color and added flavor.

Serve and Enjoy:

Serve your Creamy Chicken Pasta with Artichoke Hearts hot, and savor the Mediterranean-inspired flavors in every creamy, delectable bite.
Tips
For a lighter version, you can use half-and-half or whole milk instead of heavy cream, though the sauce will be less rich.
Experiment with different pasta shapes to create unique textures in your dish.
If you have fresh basil on hand, feel free to use it in place of dried basil for an even fresher flavor.
Creamy Chicken Pasta with Artichoke Hearts is a harmonious blend of flavors that transports you to the Mediterranean coast with every bite. The tender chicken, tangy artichoke hearts, and rich, creamy sauce create a symphony of taste and texture. Whether you're cooking for a special occasion or a weeknight dinner, this dish is sure to impress. So, fire up your skillet, bring a taste of the Mediterranean into your kitchen, and savor the exquisite combination of creamy, tangy, and savory elements in this delightful pasta dish.