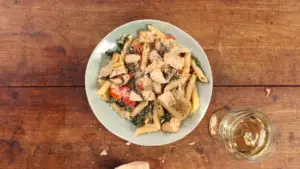 Do you crave the rich flavors of the Mediterranean but want a quick and easy dish to satisfy your appetite? Look no further than this Creamy Chicken Pasta with Artichoke Hearts. It's a perfect blend of tender chicken, tangy artichoke hearts, and creamy sauce that will transport your taste buds straight to the Mediterranean coast. Whether you're a busy parent or a gourmet enthusiast, this recipe is a breeze to follow and will leave you craving more. Let's dive into the culinary magic.
Ingredients:
For the Pasta:
8 ounces (about 2 cups) of penne pasta
2 boneless, skinless chicken breasts
Salt and black pepper to taste
1 tablespoon olive oil
For the Creamy Sauce:
2 tablespoons butter
2 cloves garlic, minced
1 cup heavy cream
1 cup chicken broth
1 cup grated Parmesan cheese
1 teaspoon dried basil
1 teaspoon dried oregano
1/2 teaspoon red pepper flakes (adjust to your spice preference)
1 can (14 ounces) artichoke hearts, drained and quartered
For Garnish:
Fresh basil leaves, chopped
Grated Parmesan cheese
Instructions:
Step 1: Prepare the Pasta and Chicken
Cook the penne pasta according to the package instructions until al dente. Drain and set aside.
While the pasta is cooking, season the chicken breasts with salt and black pepper.
Heat olive oil in a large skillet over medium-high heat. Add the chicken breasts and cook for about 6-7 minutes per side, or until they are cooked through and no longer pink in the center. Remove the chicken from the skillet and let it rest for a few minutes. Then, slice it into thin strips.
Step 2: Prepare the Creamy Sauce
In the same skillet, add the butter and minced garlic. Sauté for about a minute, until fragrant.
Pour in the heavy cream and chicken broth, stirring to combine. Allow the mixture to simmer gently for about 2-3 minutes.
Gradually whisk in the grated Parmesan cheese until the sauce is smooth and creamy.
Stir in the dried basil, dried oregano, and red pepper flakes. Adjust the spice level to your liking.
Gently fold in the quartered artichoke hearts and sliced chicken. Allow the mixture to simmer for an additional 2-3 minutes to heat the artichoke hearts and chicken through.
Step 3: Combine and Serve
Add the cooked penne pasta to the skillet with the creamy sauce, chicken, and artichoke hearts. Toss everything together until the pasta is well coated with the sauce.
Cook for an additional 2-3 minutes, stirring occasionally, until the pasta is heated through.
Step 4: Garnish and Enjoy
Serve your creamy chicken pasta with artichoke hearts hot, garnished with freshly chopped basil leaves and an extra sprinkle of grated Parmesan cheese.
Pair it with a crisp green salad or some garlic bread for a complete Mediterranean-inspired meal.
Variation: Mediterranean Veggie Twist
For a vegetarian twist on this Mediterranean delight, omit the chicken and add a medley of sautéed vegetables like bell peppers, zucchini, and cherry tomatoes. You'll still get the creamy, tangy flavors with a burst of Mediterranean freshness.
In conclusion, this Creamy Chicken Pasta with Artichoke Hearts is a delightful journey to the Mediterranean without leaving your kitchen. With its creamy sauce, tender chicken, and the unique tang of artichoke hearts, it's a dish that's both comforting and exotic. So, whip up this easy recipe and savor the flavors of the Mediterranean on your plate tonight. Buon appetito!