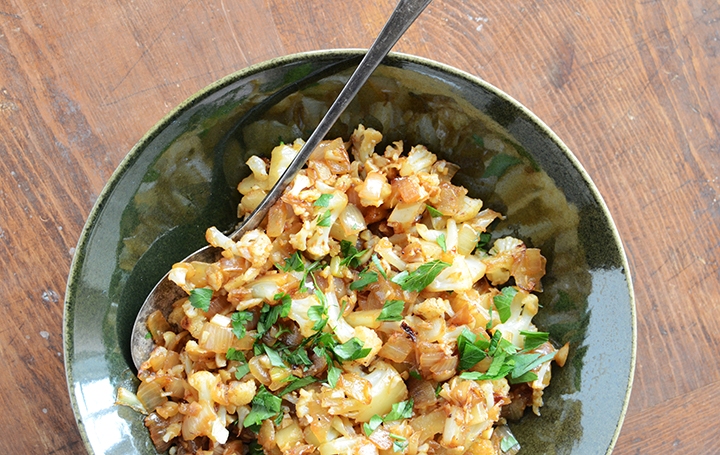 Ingredients
2 tablespoons olive oil
¾ lb (350 g) cauliflower, chopped into small pieces
1 medium onion, diced
¼ teaspoon smoked paprika
¼ teaspoon salt
⅛ teaspoon black pepper
3 tablespoons water
1 large clove garlic, minced
2 teaspoons lemon juice
2 teaspoons minced fresh parsley leaves (for garnish)
Fried eggs, for serving (optional)
Instructions
Heat the oil in a large skillet over medium-high heat; add the cauliflower and onion in an even layer and let it cook without stirring until it takes on a little color on the bottom, about 2 to 3 minutes.
Give it a stir, then add the smoked paprika, salt, black pepper, and water. Cover the skillet and cook until the cauliflower is fork-tender but not mushy, and has taken on a golden color, about 3 to 5 minutes.
Turn the heat down to low, add the garlic, and cook 2 minutes, stirring constantly.
Stir in the lemon juice and cook until evaporated, about 30 seconds.
Serve with the parsley sprinkled on top, and add a fried egg if you like.
Source : allrecipes.Com