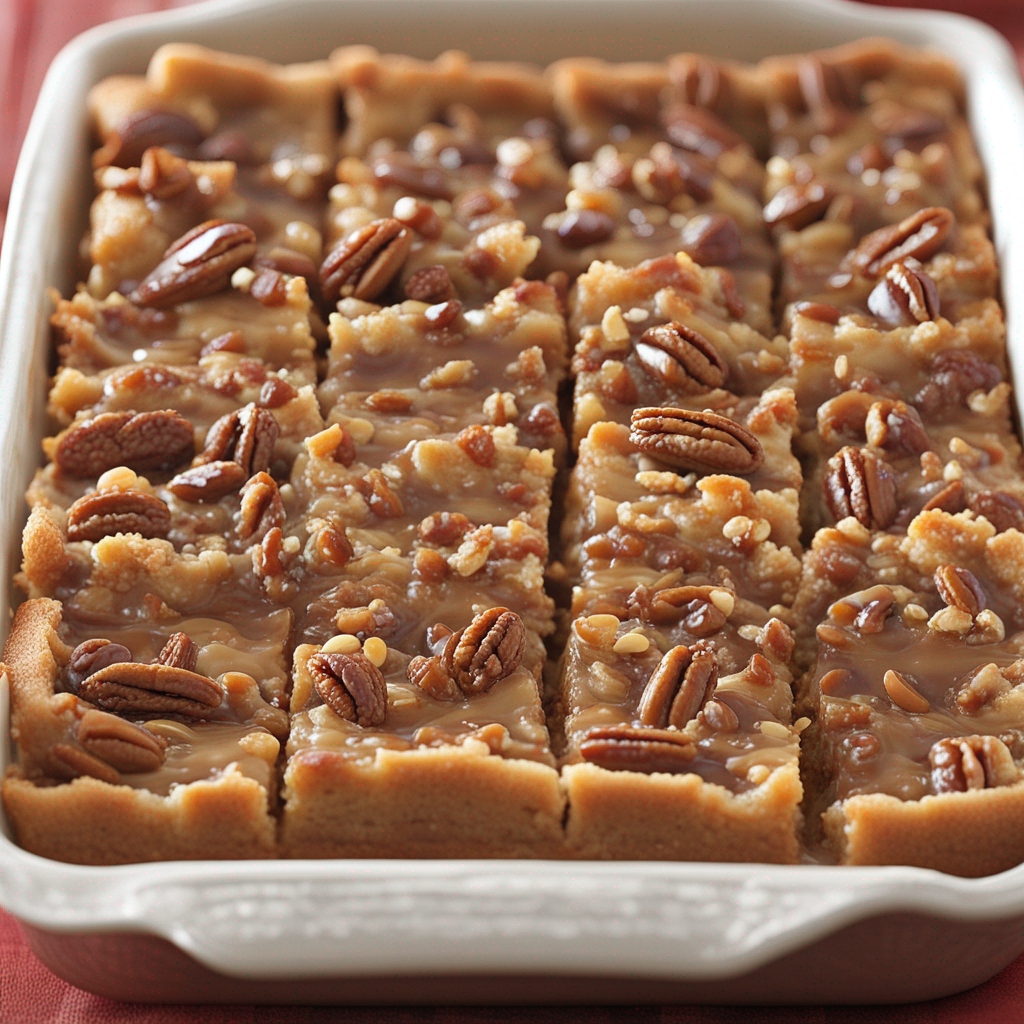 There are moments when life calls for indulgence, and what's more indulgent than the buttery, nutty delight of Caramel Pecan Dream Bars? Infused with the rich flavors of sweet caramel and the crunch of pecans, this recipe will take your taste buds on a delicious journey.
In today's post, I'll be sharing the perfect recipe for Caramel Pecan Dream Bars. This dessert is not only a treat for the palate, but it's also incredibly easy to make. So, let's not keep you waiting any longer and dive right into the recipe.
Quick Facts:
Prep Time: 10 minutes
Cook Time: 25 minutes
Total Time: 35 minutes
Servings: 12 bars
Ingredients:
For The Crust:
1 box yellow cake mix
1/3 cup soft margarine
1 egg
For The Filling:
1 (14 oz) can sweetened condensed milk
1 cup pecans, chopped
1/2 cup bits o' Brickle baking chips
Instructions:
Making The Crust:
Preheat the Oven: Start by preheating your oven to 350°F (175°C). This ensures even cooking throughout.
Mix the Ingredients: In a mixing bowl, combine the yellow cake mix, soft margarine, and egg. Stir until a soft dough forms.
Prepare the Pan: Take an ungreased 13×9-inch pan and press the dough evenly into it, ensuring that it covers the bottom.
Bake the Crust: Place the pan in the oven and bake for 10 minutes or until the crust turns slightly golden.
Preparing The Filling:
Mix the Ingredients: While the crust is baking, in a separate bowl, combine the sweetened condensed milk, chopped pecans, and bits o' Brickle baking chips. Mix them well.
Spread Over the Crust: Once the crust is ready and slightly cooled, pour the filling over it, ensuring it spreads evenly.
Bake Again: Place the pan back in the oven and continue to bake for an additional 15-20 minutes or until the filling is set and has a beautiful golden hue.
Cool and Serve:
Let it Cool: Once baked, remove the pan from the oven and allow it to cool on a wire rack.
Cut Into Bars: When completely cooled, cut your dessert into squares or bars.
Serve and Enjoy: Place the bars on a serving dish, and they're ready to be devoured!
For quality ingredients, we recommend thegreatergoods.ca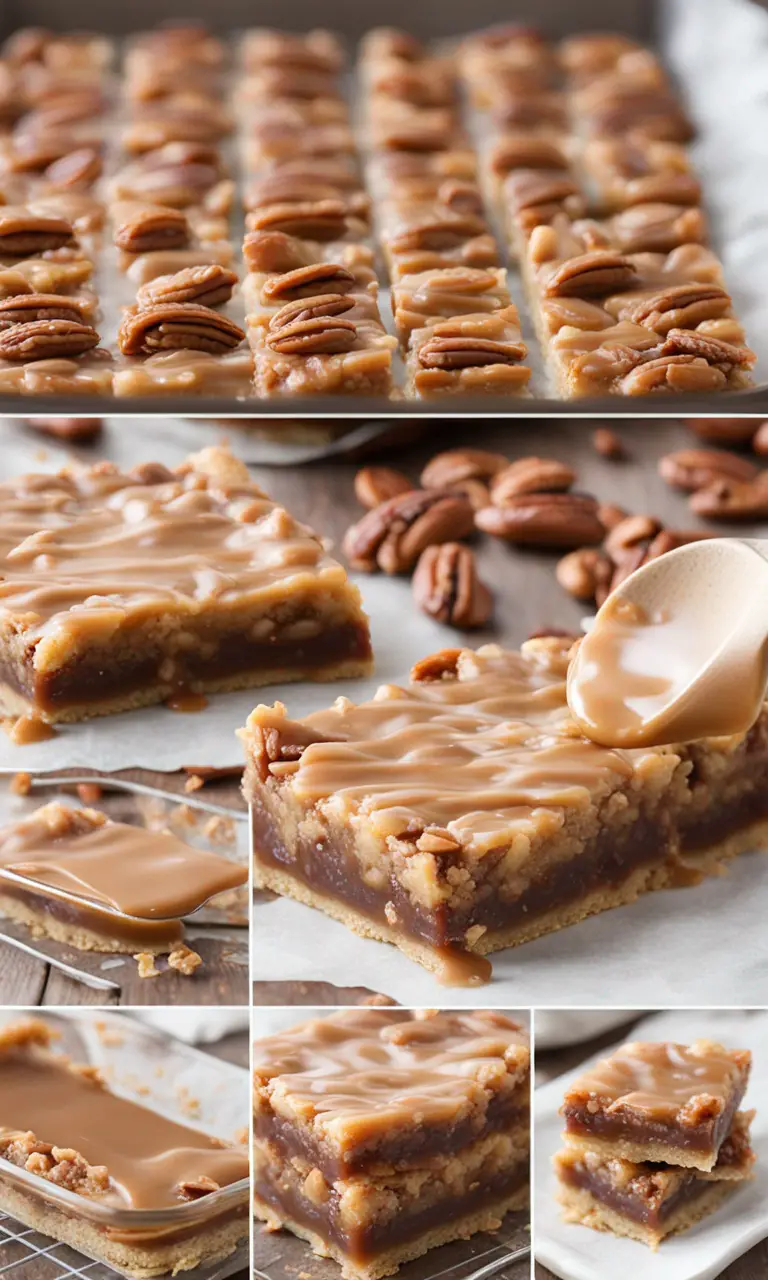 The Secrets Behind Perfect Caramel Pecan Dream Bars
Every great baker has a few tricks up their sleeves, and these are the secrets to elevate these bars from good to absolutely perfect:
Quality Ingredients: Always opt for fresh and high-quality ingredients. A fresh box of yellow cake mix and freshly chopped pecans can make a huge difference.
Even Spread: Ensure the filling is spread uniformly over the crust to get an even taste in every bite.
Patience is Key: Allow the bars to cool thoroughly before cutting. It might be tempting to dive in while they're still warm, but patience ensures they hold their shape.
Serving Suggestions
These bars are rich and flavorful on their own, but if you want to take it up a notch:
Drizzle: A light drizzle of caramel or chocolate sauce before serving.
Ice Cream: A scoop of vanilla or caramel ice cream on the side.
Whipped Cream: A dollop on top for added richness.
Frequently Asked Questions (FAQs)
Can I use butter instead of margarine?
Absolutely! Butter can be a richer alternative to margarine.
How long can I store these bars?
Stored in an airtight container, they can last up to a week in the fridge.
Can I use a different type of nut?
Yes, walnuts or almonds can be great alternatives to pecans.
These Caramel Pecan Dream Bars are perfect for family gatherings, parties, or simply as a treat after a long day. Their richness and deliciousness are bound to win you some serious brownie points (or should I say, bar points?) with whoever tastes them.
Share Your Thoughts: Tried this recipe? Loved it? Have a twist of your own? We'd love to hear about it! Leave a comment below and share your experience with the Caramel Pecan Dream Bars.
If you loved this recipe, check out our Gemma's Chewy Brownies Recipe
Loved this recipe? Make sure to pin it on Pinterest and share the love with others! #DreamBarDelight