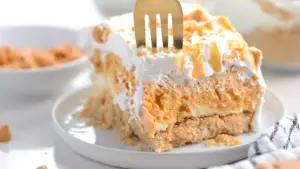 Are you in need of a dessert that combines layers of creamy goodness with the sweet, caramelized flavor of butterscotch? Look no further than this Butterscotch Lush dessert. It's a dreamy, multi-layered treat that's sure to satisfy your sweet tooth and leave your taste buds dancing with delight. Whether you're planning a special occasion or just craving something decadent, this dessert is the perfect choice.
Ingredients:
For the Crust:
1 cup all-purpose flour
1/2 cup unsalted butter, melted
1/4 cup granulated sugar
1 cup pecans, finely chopped (optional)
For the Butterscotch Layer:
1 (3.4-ounce) package instant butterscotch pudding mix
1 1/2 cups whole milk
For the Cream Cheese Layer:
1 (8-ounce) package cream cheese, softened
1 cup powdered sugar
1 cup whipped topping (like Cool Whip)
For the Topping:
1 cup whipped topping (like Cool Whip)
Butterscotch sauce or caramel sauce for drizzling (optional)
Additional chopped pecans for garnish (optional)
Instructions:
Step 1: Prepare the Crust
Preheat your oven to 350°F (175°C).
In a medium-sized bowl, combine the melted butter, all-purpose flour, granulated sugar, and finely chopped pecans (if using). Mix until the ingredients are well combined and resemble coarse crumbs.
Press the mixture into the bottom of a 9×9-inch (23×23 cm) square baking dish. Make sure it forms an even layer.
Bake the crust in the preheated oven for 15-20 minutes or until it's lightly golden. Remove it from the oven and allow it to cool completely.
Step 2: Make the Butterscotch Layer
In a separate bowl, whisk together the instant butterscotch pudding mix and whole milk until it thickens, usually about 2 minutes.
Once thickened, spread the butterscotch pudding mixture over the cooled crust. Make sure it's evenly distributed.
Step 3: Prepare the Cream Cheese Layer
In another bowl, beat the softened cream cheese until it's smooth and creamy.
Gradually add in the powdered sugar and continue to beat until well combined.
Gently fold in 1 cup of whipped topping (like Cool Whip) until the mixture is light and fluffy.
Carefully spread the cream cheese mixture over the butterscotch layer in the baking dish.
Step 4: Add the Topping
Top the lush dessert with another 1 cup of whipped topping. Spread it out evenly.
Step 5: Chill and Serve
Cover the baking dish with plastic wrap or aluminum foil and refrigerate the Butterscotch Lush for at least 4 hours, or until it's set.
Before serving, you can drizzle butterscotch or caramel sauce over the top for an extra layer of flavor and garnish with additional chopped pecans if desired.
Cut into squares and enjoy!
Tips for Success:
Pecans: The addition of chopped pecans in the crust and as a garnish is optional. If you or your guests have nut allergies, feel free to omit them.
Chilling Time: Don't skip the refrigeration step. Allowing the layers to set in the fridge ensures a perfect, creamy texture.
Serving: This Butterscotch Lush is rich and indulgent, so small squares are often just right.
Variation: Experiment with different pudding flavors or drizzle with chocolate sauce for a unique twist.
In conclusion, this Butterscotch Lush dessert is a heavenly treat that combines the delightful flavors and textures of butterscotch, cream cheese, and a buttery crust. It's a dessert that's as beautiful as it is delicious, making it perfect for gatherings, special occasions, or any time you want to indulge your sweet tooth. So, gather your ingredients and treat yourself and your loved ones to a slice of butterscotch heaven.