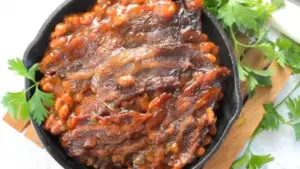 Brown Sugar and Bacon Baked Beans are the ultimate comfort food, combining the sweet richness of brown sugar with the savory, smoky goodness of bacon. This classic side dish is a crowd-pleaser at picnics, barbecues, and family gatherings. Whether you're looking for a hearty accompaniment to your grilled meats or a standalone comfort dish, these baked beans are sure to satisfy your taste buds. Let's dive into creating this sweet and savory delight.
Ingredients
4 cans (15 ounces each) of navy beans or your favorite canned beans, drained and rinsed
1/2 pound bacon, chopped
1 medium onion, finely chopped
1/2 cup brown sugar
1/2 cup ketchup
1/4 cup molasses
2 tablespoons yellow mustard
1 teaspoon Worcestershire sauce
1/2 teaspoon garlic powder
1/2 teaspoon black pepper
1/2 teaspoon salt
Instructions
Preheat Your Oven:

Preheat your oven to 325°F (163°C).

Cook the Bacon:

In a large oven-safe skillet or a Dutch oven, cook the chopped bacon over medium heat until it becomes crispy and browned. This will take approximately 5-7 minutes.

Sauté the Onion:

Add the finely chopped onion to the skillet with the bacon and cook for an additional 3-4 minutes, or until the onion turns translucent and slightly caramelized.

Create the Sauce:

In a bowl, whisk together the brown sugar, ketchup, molasses, yellow mustard, Worcestershire sauce, garlic powder, black pepper, and salt. This combination of ingredients forms the sweet and savory sauce that will coat the baked beans.

Combine Beans and Sauce:

Add the drained and rinsed navy beans to the skillet with the bacon and onions.
Pour the sauce over the beans, bacon, and onions.

Mix and Bake:

Gently stir all the ingredients together until well combined. Ensure that the beans are evenly coated with the sauce.
Cover the skillet or Dutch oven with a lid or aluminum foil and place it in the preheated oven.

Bake:

Bake the beans for approximately 1 hour. This allows the flavors to meld, the sauce to thicken, and the beans to become tender and infused with the delicious sauce.

Uncover and Continue Baking (Optional):

If you prefer a thicker sauce with a bit of caramelization on top, you can uncover the beans during the last 15-20 minutes of baking.

Serve and Enjoy:

Remove the skillet or Dutch oven from the oven, and let it cool for a few minutes before serving.
Scoop out a generous portion of these irresistible Brown Sugar and Bacon Baked Beans, and savor the perfect balance of sweet and savory flavors.
Tips
Feel free to experiment with different types of beans, such as pinto or black beans, to suit your taste.
For a spicy twist, add a dash of hot sauce or a pinch of red pepper flakes to the sauce.
Make these baked beans in advance and reheat them for a quick and delicious side dish.
Brown Sugar and Bacon Baked Beans are the ultimate blend of sweet and savory, making them a classic and comforting side dish for any occasion. The rich, smoky flavor of bacon combines perfectly with the sweetness of brown sugar and the tang of ketchup and molasses. These baked beans are a delightful accompaniment to grilled meats, burgers, or hot dogs at your next barbecue, and they're equally satisfying on their own. So, fire up your oven, prepare a batch of these flavorful beans, and enjoy the irresistible combination of sweet and savory in every bite.