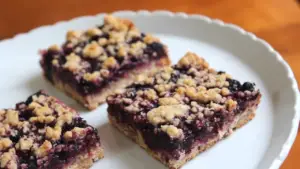 There's something undeniably delightful about a homemade snack that's both wholesome and utterly satisfying. Enter our Blueberry Hemp Crumble Bars, a delightful fusion of sweet, tart blueberries, nutty hemp seeds, and a crumbly oat crust that's as easy to make as it is to devour. Whether you're indulging in a midday treat or packing a snack for the kids, these bars are the perfect choice.
Picture this: a burst of juicy blueberries mingling with a hint of lemon zest, all nestled between layers of hearty, protein-packed hemp seeds and oats. These bars are not only delicious but also packed with nutrients. Plus, they're a breeze to whip up and store for days of snacking ahead. So, let's dive into this scrumptious recipe and transform your kitchen into a mini bakery!
Ingredients
For the Crust and Topping:
1 ½ cups rolled oats
1 cup all-purpose flour
½ cup brown sugar
½ cup unsalted butter (cold, cubed)
¼ cup hemp seeds
½ teaspoon baking powder
¼ teaspoon salt
Zest of one lemon
For the Blueberry Filling:
2 cups fresh or frozen blueberries
¼ cup granulated sugar
1 tablespoon lemon juice
1 tablespoon cornstarch
Instructions
Step 1: Prepare the Blueberry Filling
In a saucepan, combine the blueberries, granulated sugar, lemon juice, and cornstarch.
Cook over medium heat, stirring frequently, until the mixture thickens and the blueberries burst, about 10 minutes.
Remove from heat and let it cool while you prepare the crust and topping.
Step 2: Make the Crust and Topping
Preheat your oven to 350°F (175°C) and grease a 9×9-inch baking pan.
In a large mixing bowl, combine the rolled oats, all-purpose flour, brown sugar, hemp seeds, baking powder, salt, and lemon zest.
Add the cold, cubed butter to the dry mixture. Use a pastry cutter or your fingers to work the butter into the mixture until it resembles coarse crumbs.
Press half of the crumbly mixture into the bottom of the prepared baking pan, creating an even layer.
Spread the cooled blueberry filling evenly over the crust.
Sprinkle the remaining crumble mixture over the blueberry layer, creating a crumbly topping.
Step 3: Bake and Cool
Bake in the preheated oven for 35-40 minutes, or until the top is golden brown.
Remove from the oven and let it cool completely in the pan on a wire rack.
Step 4: Slice and Enjoy
Once cooled, cut into squares or bars.
Serve and savor your homemade Blueberry Hemp Crumble Bars!
Tips
Fresh vs. Frozen Blueberries: You can use either fresh or frozen blueberries for this recipe. If using frozen, there's no need to thaw them before cooking.
Hemp Seeds: Hemp seeds add a delightful nutty flavor and extra nutrition. If you don't have them, you can substitute with chopped nuts like almonds or walnuts.
Storage: These bars keep well in an airtight container at room temperature for up to three days. For longer storage, refrigerate them for up to a week or freeze for up to three months.
Customize the Crust: Feel free to add a dash of cinnamon or a handful of shredded coconut to the crust for extra flavor.
Variation: Raspberry Chia Seed Bars
If you want to switch things up, try making Raspberry Chia Seed Bars using the same crust and topping recipe. Simply replace the blueberries with fresh or frozen raspberries and swap the hemp seeds for chia seeds in the crust. Proceed with the same cooking instructions, and you'll have a delightful raspberry twist on these delicious crumble bars.
These Blueberry Hemp Crumble Bars are not just a treat for your taste buds; they're a celebration of wholesome ingredients and homemade goodness. Whether you're enjoying them with your morning coffee, packing them in lunchboxes, or savoring them as an afternoon snack, these bars are a delightful addition to your baking repertoire. With the option to switch things up with raspberry or other fruits, they're versatile enough to suit any craving. So, roll up your sleeves, gather your ingredients, and embark on a baking adventure that's bound to delight your senses and those of your loved ones. Happy baking!