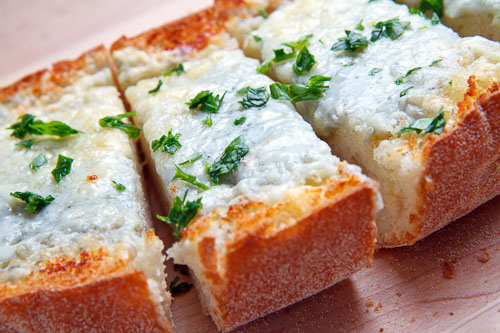 Ingredients
1 (12 ounce) loaf French bread
1/2 cup butter at room temperature (divided)
4 teaspoons garlic powder, divided
1 (8 ounce) bottle blue cheese salad dressing
1/2 cup shredded mozzarella cheese, divided
1 (3 ounce) package grated Parmesan cheese, divided
Directions
Preheat oven to 400 degrees F (200 degrees C). Line a baking sheet with aluminum foil.

Cut French bread loaf in half lengthwise and spread butter on both cut sides. Sprinkle each side with 2 teaspoons garlic powder. Place halves on prepared baking sheet.

Bake in the preheated oven until butter has melted and bread is hot but not toasted, about 5 minutes. Remove bread from oven.

Turn on oven's broiler.

Spread half the bottle of blue cheese salad dressing over each half; sprinkle each piece of bread with mozzarella cheese and Parmesan cheese.

Broil until mozzarella cheese has melted and is slightly browned, 1 to 4 minutes. Watch carefully to prevent burning. Let bread cool 2 to 3 minutes before cutting into serving pieces.
Source : allrecipes.com