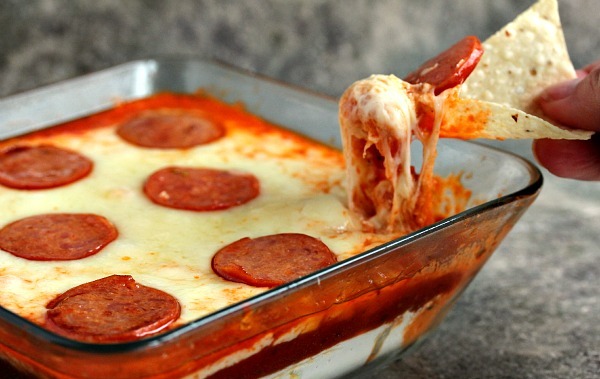 Ingredients
1 (8 oz.) package cream cheese, room temperature
1 cup tomato sauce (homemade or store-bought)
1 cup mozzarella cheese, divided
1/2 cup parmesan cheese, grated
1/2 cup milk
1/2 cup black olives, pitted, optional
1/2 teaspoon dried basil
1/2 teaspoon dried oregano
1/2 teaspoon garlic powder
kosher salt and freshly ground pepper, to taste
crusty bread, sliced
Directions
Preheat oven to 400º F.
Combine milk and cream cheese in a small saucepan over medium heat and whisk together until smooth.
Mix in 1/2 cup mozzarella, parmesan cheese and garlic powder, and stir until melted. Cook for 3-4 minutes, or until thickened.
Pour mixture into an ovenproof dish and use a rubber spatula or spoon to smooth out.
Pour tomato sauce on top of cheese mixture and smooth out evenly, then sprinkle remaining mozzarella over the top.
Season with basil, oregano, salt and pepper and top with pitted olives, if using.
Place baking dish in oven and bake for 8-10 minutes, or until bubbly.
Remove from oven and serve immediately with crusty bread slices.
Source : allrecipes.Com