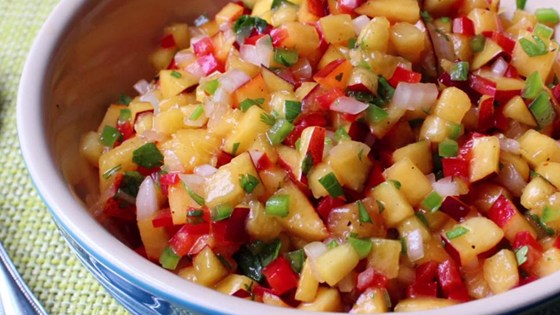 Ingredients
1 cup finely diced nectarine
1/2 cup finely diced red bell pepper
1/3 cup finely diced onions
2 tablespoons finely diced jalapeno pepper
1 tablespoon chopped fresh cilantro
1 tablespoon fresh lime juice
2 teaspoons olive oil
1/2 teaspoon salt, plus more to taste
1 pinch cayenne pepper
1 pinch freshly ground black pepper
Directions
Combine nectarines, bell pepper, onions, jalapeno pepper, and cilantro in a bowl. Stir in lime juice, olive oil, salt, and cayenne pepper.
Cover bowl with plastic wrap. Refrigerate to let flavors develop, 30 minutes to 1 hour.
Before serving, stir in black pepper. Add a pinch more salt, if needed.
Source : allrecipes.Com