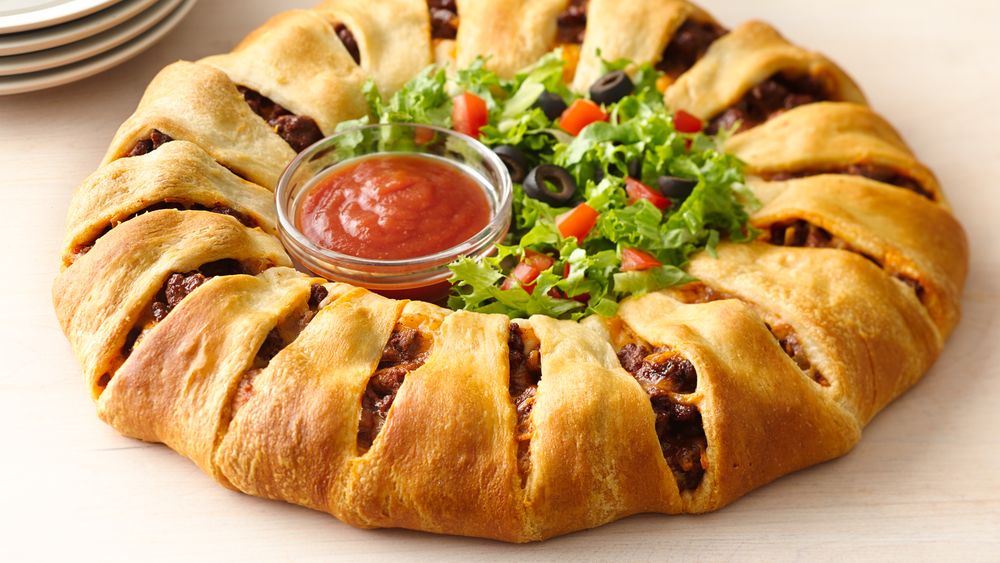 Ingredients
1 pound ground beef
1 small onion, chopped
3/4 cup water
1 (1.25 ounce) package taco seasoning
2 (8 ounce) cans refrigerated crescent rolls
1 (8 ounce) package shredded Mexican cheese blend
Directions
Heat a large skillet over medium-high heat. Cook and stir beef and onion in the hot skillet until beef is browned and crumbly, 5 to 7 minutes; drain and discard grease. Add water and taco seasoning to beef mixture; bring to a boil. Reduce heat to medium-low and simmer, stirring occasionally, until water is evaporated, 10 to 15 minutes.
Preheat oven to 375 degrees F (190 degrees C). Remove crescent roll dough from packaging and separate into individual pieces.
Arrange crescent roll triangles in a circle with the points facing outward on a pizza stone or pan. Spoon ground beef mixture into the center of each dough piece, creating a ring shape. Sprinkle Mexican cheese blend over ground beef mixture. Fold crescent roll points toward the middle, sealing the dough together.
Bake in the preheated oven until dough is lightly browned, 11 to 13 minutes.
Source : allrecipes.com