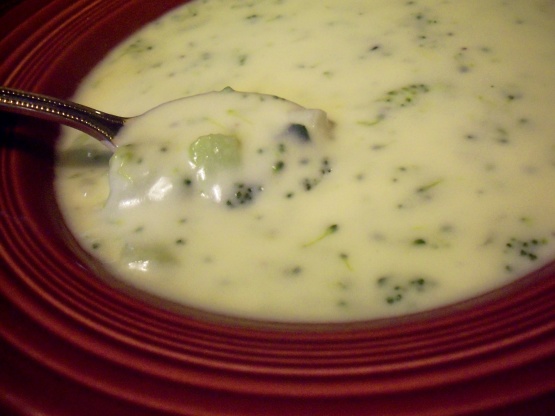 2 tbsp
butter
1
onion
, chopped
1 clove
garlic
, chopped
1 stalk
celery
, chopped
14 1⁄2 oz
can chicken broth
4 cup
broccoli
3 tbsp
butter
3 tbsp
flour
2 cup
milk
, (or 1 1/2 cups milk and 1/2 cup evaporated milk)
1
black pepper
1⁄2 cup
Velveeta cheese
, (or more)
Melt 2 tablespoons butter in medium sized stock pot, and sauté onion, garlic and celery until tender.
Add broccoli and broth; cover and simmer for 10 minutes.
Purée soup (I use a hand blender) or mash with potato masher.
Return to heat.
In small saucepan, over medium heat melt 3 tablespoons butter, stir in flour and add milk.
Stir until thick and bubbly, add to soup.
Add cheese; stir until melted.
Season with pepper and serve.
Source : allrecipes.Com