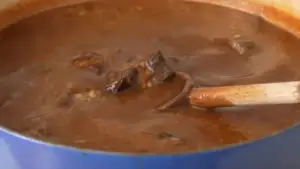 Beef stew is a hearty and flavorful dish that has been enjoyed for centuries. It is a perfect meal for a cold winter day. Beef stew is made with beef, vegetables, and a rich broth, and it is slowly simmered until the meat is tender and the flavors have melded together.
Ingredients
The following is a basic recipe for beef stew:
2 pounds beef chuck, cut into 1-inch cubes
2 tablespoons olive oil
1 large onion, chopped
2 carrots, chopped
2 celery stalks, chopped
1 teaspoon dried thyme
1/2 teaspoon dried rosemary
1/4 teaspoon salt
1/4 teaspoon black pepper
4 cups beef broth
1 bay leaf
1/2 cup red wine (optional)
1/2 cup frozen peas
Steps
Heat the olive oil in a large pot over medium heat. Add the beef cubes and cook until browned on all sides.
Add the onion, carrots, celery, thyme, rosemary, salt, and pepper to the pot. Cook until the vegetables are softened, about 5 minutes.
Add the beef broth, bay leaf, and red wine (if using). Bring to a boil, then reduce heat to low. Simmer for 2-3 hours, or until the beef is tender.
Stir in the peas and cook for 5 minutes more.
Serve hot with crusty bread or mashed potatoes.
Tips
For a richer flavor, brown the beef cubes in a Dutch oven over medium-high heat.
Add more or less red wine to taste.
For a thicker stew, add 1 tablespoon of cornstarch dissolved in 2 tablespoons of cold water to the pot.
Serve with your favorite toppings, such as sour cream, grated Parmesan cheese, or chopped fresh parsley.
Variations
Here are some ideas for variations on the basic beef stew recipe:
Add different vegetables: Other vegetables that would be good in beef stew include potatoes, turnips, parsnips, and mushrooms.
Use a different type of meat: Lamb, pork, or venison would all be delicious in beef stew.
Add different spices: Other spices that would be good in beef stew include garlic powder, paprika, and cayenne pepper.
Use a different type of broth: Chicken or vegetable broth could be substituted for beef broth.
Serve with different sides: Beef stew would be delicious served with crusty bread, mashed potatoes, rice, or noodles.
Make it a one-pot meal: Add the potatoes and other vegetables to the pot with the beef and broth, and cook until everything is tender.
Make it a slow cooker meal: Brown the beef cubes in a skillet, then transfer them to a slow cooker with the vegetables, broth, and spices. Cook on low for 6-8 hours, or until the beef is tender.
Beef stew is a versatile dish that can be customized to your liking. With so many different variations to choose from, you are sure to find a beef stew recipe that you love. So next time you are looking for a delicious and satisfying meal, give beef stew a try!
Here are some additional tips for making the best beef stew:
Use a good quality beef chuck roast. This cut of meat is well-marbled and will become tender and flavorful when cooked slowly.
Don't overcook the meat. The beef should be fork-tender, but not mushy.
Add plenty of vegetables to your stew. This will add flavor and texture to the dish.
Use a flavorful broth. This will help to enhance the flavor of the stew.
Simmer the stew for at least 2 hours. This will allow the flavors to develop and the meat to become tender.
Serve the stew hot with crusty bread or mashed potatoes.