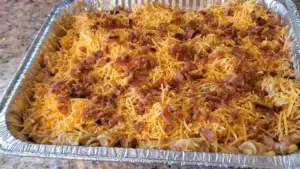 BBQ and Chicken Casserole is a delightful twist on classic comfort food that combines the smoky, tangy flavors of barbecue sauce with tender chicken and creamy, cheesy goodness. This casserole is the perfect dish to satisfy your cravings for both barbecue and home-cooked comfort in one delicious bite. Plus, it's easy to prepare, making it a go-to option for weeknight dinners or potluck gatherings.
Ingredients
For the Casserole:
4 cups cooked and shredded chicken (you can use rotisserie chicken for convenience)
1 cup barbecue sauce (your favorite brand or homemade)
1 cup shredded cheddar cheese
1 cup shredded mozzarella cheese
1/2 cup diced red onion
1/2 cup diced green bell pepper
1/2 cup diced red bell pepper
1/4 cup chopped fresh cilantro (optional, for garnish)
2 tablespoons olive oil
Salt and pepper to taste
For the Topping:
1 cup crushed cornflakes or breadcrumbs
2 tablespoons melted butter
Instructions
Preparing the Casserole:
Preheat your oven to 375°F (190°C).
In a large mixing bowl, combine the shredded chicken and barbecue sauce. Mix until the chicken is evenly coated with the sauce.
In a separate skillet, heat the olive oil over medium-high heat. Add the diced red onion and bell peppers. Sauté until they become tender and slightly caramelized, which should take about 5 minutes.
Season the sautéed vegetables with salt and pepper to taste.
Add the sautéed vegetables to the bowl with the chicken and barbecue sauce. Mix everything together.
Fold in the shredded cheddar and mozzarella cheese. This will create a creamy, cheesy base for the casserole.
Creating the Topping:
In a small bowl, combine the crushed cornflakes (or breadcrumbs) with the melted butter. Mix until the cornflakes are evenly coated.
Assembling and Baking:
Transfer the chicken and barbecue mixture to a greased 9×13-inch baking dish, spreading it out evenly.
Sprinkle the cornflake topping over the chicken mixture. This will add a delightful crunch to the casserole.
Place the casserole in the preheated oven and bake for 25-30 minutes, or until it's bubbling, and the top is golden brown.
Serving:
Once the BBQ and Chicken Casserole is done baking, remove it from the oven.
Garnish with chopped fresh cilantro, if desired, for a burst of color and freshness.
Serve hot and enjoy the harmonious blend of barbecue, chicken, and cheesy goodness.
Variations and Tips
Vegetable Additions: Customize your casserole by adding more vegetables like corn, black beans, or diced tomatoes for extra flavor and nutrition.
Spice It Up: If you like a little heat, add a pinch of red pepper flakes or diced jalapeños to the chicken and barbecue sauce mixture.
Different Cheese: Experiment with different cheese blends like pepper jack, Monterey Jack, or Colby for unique flavor combinations.
Homemade BBQ Sauce: Consider making your own barbecue sauce for a more personalized flavor profile.
Make It Creamy: To add creaminess, mix in a half-cup of sour cream or Greek yogurt to the chicken and barbecue mixture.
Make It Gluten-Free: Use gluten-free cornflakes or breadcrumbs if you have dietary restrictions.
Storage: Leftovers can be stored in an airtight container in the refrigerator for up to 3 days.
BBQ and Chicken Casserole is a delightful marriage of smoky, tangy barbecue flavors and creamy, cheesy comfort. It's a dish that brings a little taste of the BBQ joint right into your kitchen, with the added convenience of being a one-dish meal. Whether served for a casual family dinner or shared with friends at a gathering, this casserole is sure to be a crowd-pleaser. Enjoy the savory, comforting goodness of BBQ and Chicken Casserole!