Craving a dessert that combines the classic taste of banana pudding with the creamy delight of cheesecake? Look no further. Our Banana Pudding Cheesecake Squares recipe is an innovative blend of two all-time favorites that promises a bite of heaven with every piece.
Prep Time: 20 minutes
Cook Time: 30 minutes
Total Time: 50 minutes
Servings: 12 squares
Ingredients
For the Blondie Crust:
1/2 cup unsalted butter, melted
1/2 cup light brown sugar, packed
1 large egg yolk
1/2 cup all-purpose flour
Pinch of salt
1/4 cup mashed ripe banana
1 teaspoon pure vanilla extract
For the Cheesecake Topping:
2/3 cup heavy whipped cream
16 ounces cream cheese (2 blocks)
1 cup granulated sugar
3.4 ounces instant banana pudding powder (1 box)
1/2 cup milk
1 teaspoon vanilla extract
Optional: Powdered Sugar for that extra dash of sweetness
Garnish:
Instructions:
Blondie Crust Prep:
Start by preheating your oven to 350°F (175°C). Prepare an 8×8-inch baking pan by lining it with parchment paper or lightly greasing it.
In a medium-sized mixing bowl, whisk together the melted butter and light brown sugar until smooth.
Stir in the egg yolk, followed by the all-purpose flour and a pinch of salt.
Mix in the mashed banana and vanilla extract until combined.
Pour the mixture into the prepared baking pan and smooth the top.
Cheesecake Topping Prep:
In a separate large bowl, whip the heavy cream until stiff peaks form.
In another bowl, beat the cream cheese until it becomes smooth.
Gradually add the granulated sugar, instant banana pudding powder, milk, and vanilla extract. Beat until the mixture is smooth and creamy.
Gently fold in the whipped cream.
Spread this creamy mixture over the blondie crust in the pan.
Baking:
Bake in the preheated oven for about 25-30 minutes, or until the cheesecake is set but still slightly jiggly in the center.
Let it cool in the pan for about 2 hours.
Finishing Touch:
Optionally, sprinkle some powdered sugar on top for an added touch of sweetness.
Garnish with Nilla wafers before serving.
Storing:
Keep refrigerated if not serving immediately. This cheesecake is best enjoyed chilled.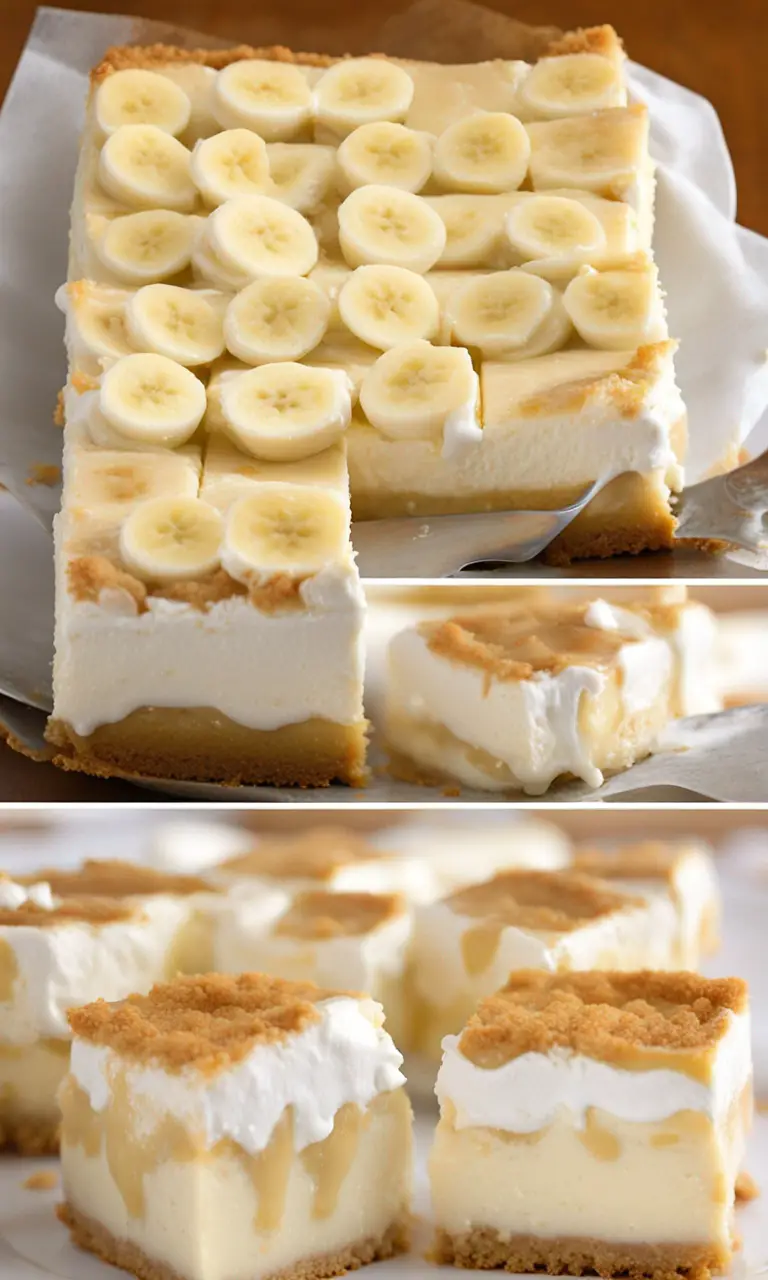 The Secrets Behind Perfect Banana Pudding Cheesecake Squares:
Consistency and quality of ingredients are key. Make sure your bananas are ripe for that rich banana flavor in the crust. Using full-fat cream cheese also helps achieve that creamy texture everyone loves in cheesecakes.
Serving Suggestions:
Parfait Style: Layer broken pieces of the square with fresh banana slices and whipped cream in a glass.
With a drizzle: Serve a piece topped with caramel or chocolate syrup for an added decadence.
Ice Cream Pair: A scoop of vanilla or banana ice cream on the side perfectly complements the cheesecake's richness.
Frequently Asked Questions (FAQs):
Can I use regular sugar instead of light brown sugar for the crust?
Yes, but light brown sugar gives a moist texture and a hint of caramel flavor.
Can I freeze the cheesecake squares?
Absolutely! Just ensure they're wrapped tightly to avoid freezer burn.
Is the banana essential for the crust?
While it provides a deeper banana flavor, you can omit it and add an additional 1/4 cup of flour.
In conclusion, these Banana Pudding Cheesecake Squares are not just a treat for the palate but also a feast for the eyes. They make for an impressive dessert to serve at gatherings or simply to enjoy on a leisurely afternoon. Happy Baking!
Loves this recipe? Make sure to pin it to your favorite dessert board on Pinterest so you can easily find it again and share it with friends! 🍌🍰📌